Volledige productomschrijving en alle product variaties.
Ik ben vereerd u mijn gamma van 6 nieuwe generatie samengestelde mixen voor te stellen. Deze voldoen voor de meest geavanceerde vissers en aan de nieuwste technieken van de visserij. Romain Foiratier. De mixen zijn samengesteld uit hoog waardige ingrediënten en zijn gemakkelijk klaar te maken en te bevochtigen.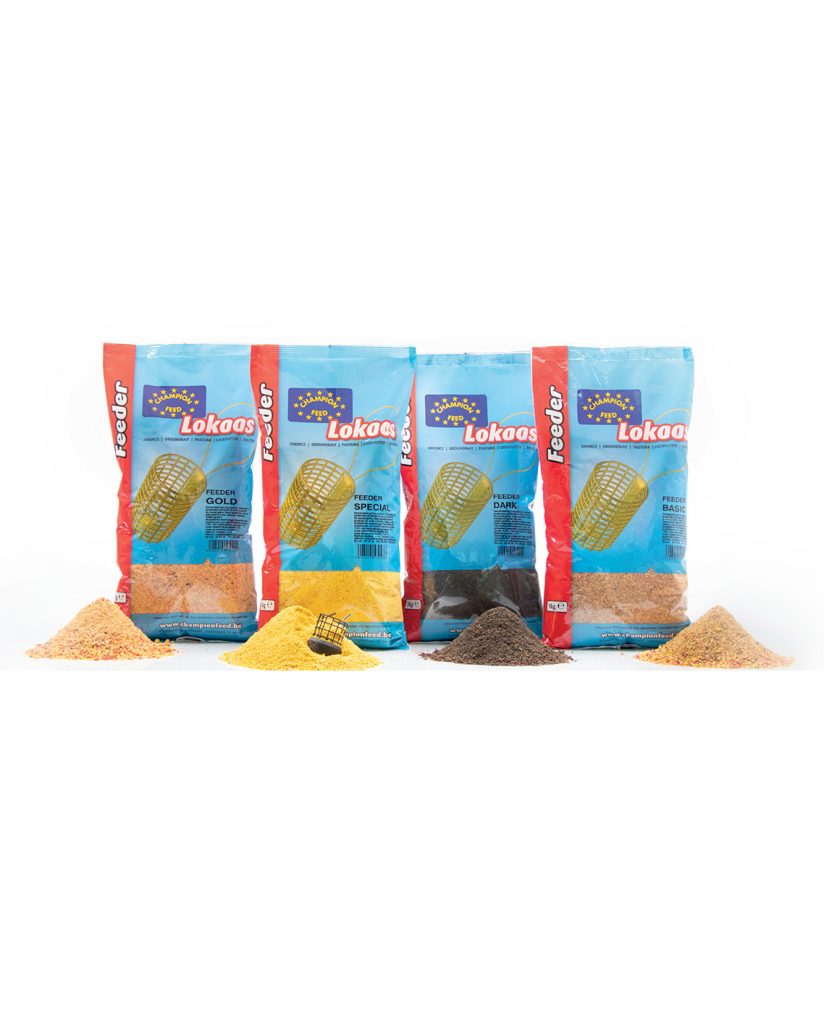 Deze discipline zit al meerdere jaren in de lift. Door de uitgekiende hoogkwalitatieve ingrediënten, zijn onze feeder lokazen waarschijnlijk de beste op de markt. Toch klevend genoeg om ver te werpen en ontwikkeld vervolgens in het water een sterke, actieve en attractieve werking.
Deze nieuwe methode in de hengelsport is sedert enkele jaren razend populair geworden.
Hierbij wordt gebruik gemaakt van een pellet of boilie als haak aas.
Het voer wordt als het ware rond uw haak aas gekneed door middel van een mal.
Het aas is sterk klevend en bestaat veelal uit verschillende gemalen en kleine pellets, en diverse soorten vismeel.
CATCH THE BIG ONES.
In ons gamma vindt u verschillende soorten karper lokazen en pasta's, onmisbaar en van de hoogste kwaliteit. Fijn, grof, zeer grof, met of zonder vismeel, aan u de keuze.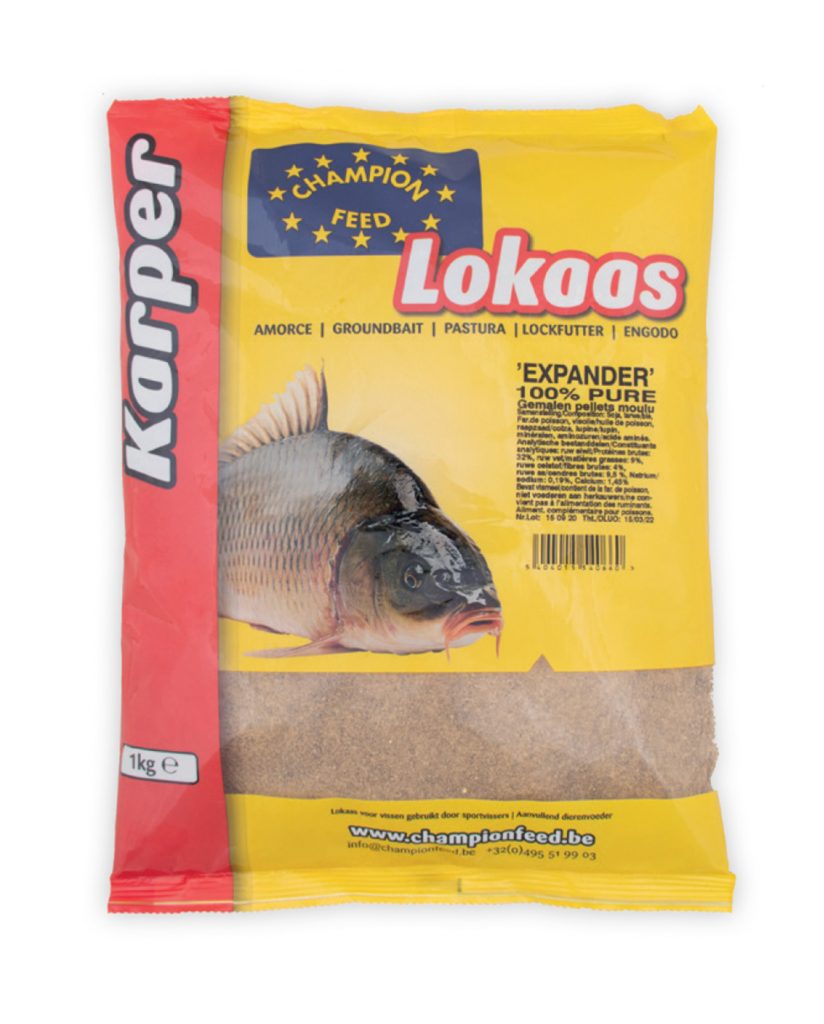 De 'gemalen 100% pur expander' kan aan uw lokaas en deeg worden toegevoegd om ze actiever en soepeler te maken.
De Purple Pellets hebben vandaag de dag in heel Europa hun waarde bewezen.
Je kunt gewoon niet zonder. Met hun proteïnegehalte van 32% lokken ze de vissen als
geen ander. Je kunt ze gebruiken als lokaas en aan de haak, of aan een elastische ring, ofwel door ze 48 uur voor het vissen in wat water te laten weken in de koelkast.
Verkrijgbaar in: 2, 3, 4, 5, 7 en 9 mm.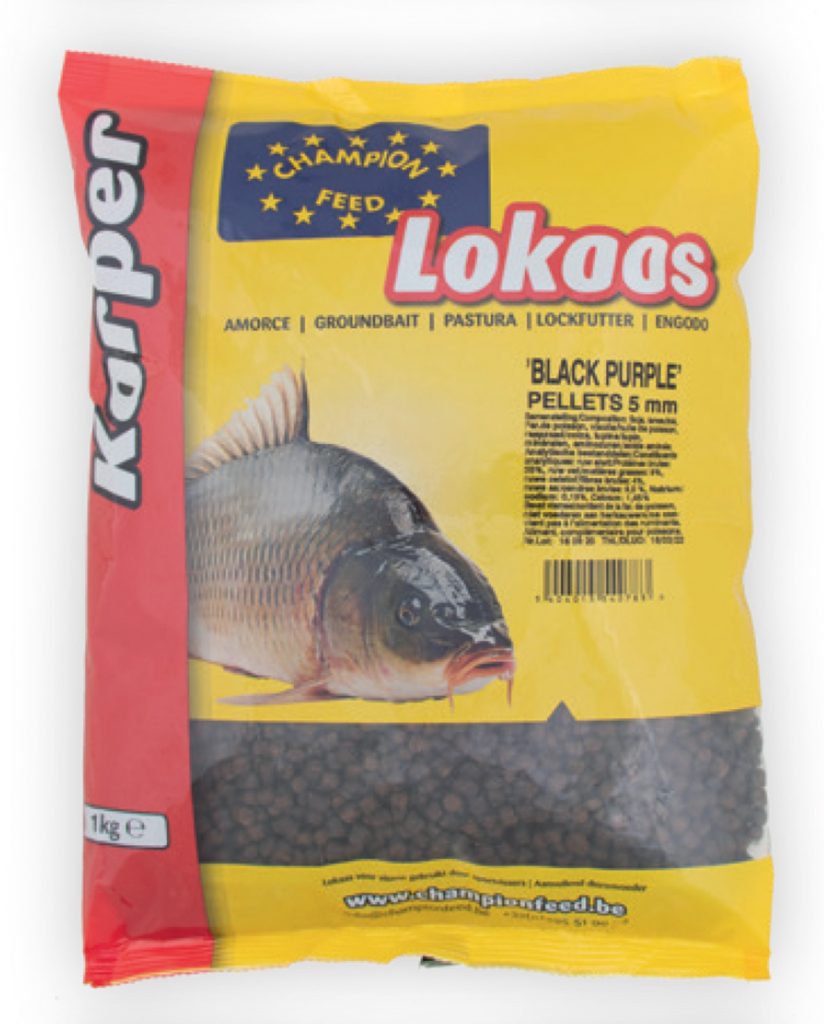 De 'Black Purple' pellets, de nieuwe pellets van Champion Feed, zijn iets donkerder dan de 'Purple pellets'. Ze hebben een grote aantrekkingskracht en een heel hoog proteïnegehalte (35%). Je kunt ze als lokaas combineren met de 'Purple pellets' om te contrasteren met de bodem. Eens je ze hebt geprobeerd ben je zeker verkocht! Je kunt ze gebruiken als lokaas en aan de haak, of aan een elastische ring, ofwel door ze 48 uur voor het vissen in wat water te laten weken in de koelkast.
Verkrijgbaar in: 2, 3, 4, 5, 7 en 9 mm
Ons nieuwe assortiment aasdeeg, de 'Purple Paste', is, zoals de naam al aangeeft, deels samengesteld uit de gerenommeerde 'Purple Pellets'. Aan de hand van de beschikbare smaken en kleuren in ons assortiment stelden we dit aasdeeg samen. Het gemeenschappelijke kenmerk ervan is dat de bevochtiging zeer eenvoudig, snel en heel efficiënt gebeurt.
Voor een perfecte grip op uw haak adviseren wij u om 1 dosis water te gebruiken voor 2 hoeveelheden deeg.
Zeer proteïnerijk lokaas met neutrale kleur en zacht vis-aroma dat verder kan worden aangepast naar eigen keuze. Door de zeer fijne structuur en zijn extreme hoge kleefkracht, is het een ideaal deegvoeder om aan de haak te gebruiken.
We zorgen zelf voor het wekelijks ophalen van koekjes, ijskreemwafels (galettes), brood en broodkruimels bij industriële bakkerijen en koekjesfabrikanten. In onze fabriek wordt getriëerd, gemalen, gemengd en verpakt, zo krijgen de hengelsportwinkels steeds verse producten aangeleverd.
GAMMA
BROODMEEL
KOEKJES
NOTEN
MAÏSPRODUCTEN
TARWEPRODUCTEN
ZADEN
ALLERLEI (HAVERMOUT, KIKKERERWTEN, RIJSTMEEL, VISMEEL …)
AROMA'S / ARÔMES / SCENTS
Al onze aroma's kunnen verwerkt worden in lokaas, levend aas, maïs en granen.
Denk eraan: Overdaad schaadt !
Al onze aroma's kunnen verwerkt worden onder en op lokaas, maar eveneens kan u ze gebruiken op levend aas. Maïs en granen laten zich ook gretig verwennen door onze aroma's. 
Naargelang het te bevissen water kan u de hoeveelheid minderen of opvoeren in uw lokaas, eveneens in opgewarmd water de te gebruiken hoeveelheid verminderen, maar denk eraan: Overdaad schaadt !
Geconkcentreerde aroma's in potjes van 150g
GAMMA
SPECULATIUS
CHAMPION APPETIZER
CARP APPETIZER
WONDER APPETIZER
LOOKPOEDER
BITTER AMANDEL
B-APPETIZER
FRAMBOOS
WILDE BESSEN
HOT SPICY
GROTE VOORN
De Booster die het verschil maakt.
Strooi een beetje activator op uw klaargemaakt en reeds bevochtigd lokaas of paste.
Maak een voerballetje en werp het op uw visstek of kneed het in uw feederkorf. In het water zal er onmiddellijk een ongeziene werking van uw lokaas optreden dat de vis ongetwijfeld zal aantrekken.
Met dit gamma zuivere kruiden versterk je je mix of stel je hem zelf samen.
Verkrijgbaar in 250 gr, 5 kg en 25 kg.
De "Liquid Aroma's" zijn heel krachtig en versterken de aantrekkingskracht van het aas, pellets, aasdeeg, zaden en zelfs levend voer.
Heel fijn wit poeder om je aas te reinigen en te bewaren.
Heel fijn wit poeder om je aas te reinigen en te bewaren.
Melasse liquid & kemp koek
De Melasse liquid mengt zich heel goed onder het lokaas en maakt dit kleveriger en zoeter. Te verdunnen in het bevochtigingswater.
De Kempkoek 'made in Champion Feed' is een perfecte samenstelling van hennepzaad en melasse. Zodra u dit product op uw visstek gebruikt, blijft het enkele uren actief en voedzaam. Voor alle soorten vis en alle wateren. Het kan worden gesneden om het azen te vergemakkelijken.
De gekookte zaden ondergaan een strengeselectie om zo de beste kwaliteit te verkrijgen.
Bekijk het aanbod in de catalogus